The 17th Door – Welcome to the Insanity of Perpetuum Penitentiary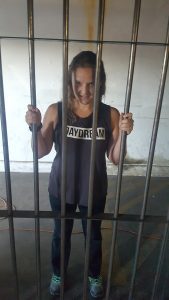 Of all the haunts I did last year, The 17th Door was my favorite, so it had a lot to live up to. This year, its third, with a continuing story and all-new sets, did not disappoint. The new location in Fullerton has been turned into Perpetuum Penitentiary, where Paula (the central character from last year's haunt) resides. Paula has led a very traumatic and abusive life, leading her to insanity and eventual infanticide. Now a resident of Perpetuum, an incarcerated Paula urges us to help her find a way to escape, but we may go insane in the process.
Beginning with a VR (virtual reality) segment (available as a $12 add-on), we, as new inmates of Perpetuum, are given haircuts and tested physically before being sent to the real-life warden for the rules. Do not touch the actors, the actors may touch you, say "mercy" if you want to skip a room for whatever reason. Then our group of 7 was sent on our way to experience the horrors that lie within. From the use of water to hydraulics, from crawling to feeling our way around in complete darkness, we went from room to room, pushing ourselves further and further out of our comfort zones. I also don't want to give too much away; the anticipation is so much fun.
I don't think this year's narrative was as strong as last year. Paula is incarcerated, and the rest is pretty much just a hellish prison theme, which they did brilliantly. I think they could have either lost the Paula storyline altogether and started over, or they could have made the narrative more prominent. If someone missed last year, it might be unclear who Paula is and why we should care. However, the execution of the theme was impeccable, the sets fantastic, and all the actors stayed in character which really added to the immersion. There were one or two little things set-wise that could've added a little something, but overall it was very well-crafted.
This is also the most physical haunt I've been to (excluding immersive theater). You will crawl, you will get jostled and touched, you will feel claustrophobic and uncomfortable, you will get shocked, and you will get wet. Heed the Warning signs plastered in the lobby. However, if you don't want to do a room, you can say "mercy" and skip only that room. Your experience doesn't have to end there, which I really appreciated (even though I did not say "mercy"). The logistics are also really innovative to The 17th Door. You don't end up in a train of people, seeing all the scares up ahead. For all intents and purposes, you're alone with your group. Your group waits for the green light above the next door before proceeding, each room lasting around a minute. Of course, that doesn't mean you're safe while you wait. You never know what is lurking in the darkness.
I really can't stress enough how much I appreciate the time, thought, and construction of this haunt. Lost in the maze of rooms, I was always excited to see what the next one had in store for us. And even at 35 minutes, I didn't want it to end. I want to continue seeing how The 17th Door grows, progresses and gets even better next year. It remains one of my favorites!
The 17th Door runs select dates through 10/31.
Tickets:
www.the17thdoor.com