Candytopia
June is National Candy Month (which is a thing, apparently). What more appropriate place to visit than Candytopia? Described as a "four-month interactive art installation," this touring exhibit is now open in Santa Monica. Ready to satisfy your sweet tooth, as well as your need for eye-catching Instagram pics, Candytopia is the latest pop-up space that uses themed environments to blur the line between modern photo booth and museum.
A Sweet Mystery
Entering the waiting area, the first thing I saw was a big map of the mythical landscape of Candytopia. Much like the maps you find in the front of epic fantasy books like "Lord of the Rings," it has rivers, mountains, and castles, all with evocative names. Chocolate Lava Mountain and the Butterscotch Bridge are definitely places I want to visit! Turning around, we find a large mechanical, steampunk-esque doorway, the entrance to Candytopia. At the designated time, the white-clad attendant gets us fired up and lets us inside.  What wonders will we see?
Promising "over a dozen environments," the first one is an old-fashioned library like you might find in an English country manor. We are greeted by another host who tells us the (very brief) rules.  We're then given our first of many candy samples and sent on our way. I really appreciated that we were not guided or timed after this first room.  You are free to roam the exhibit and locations at your leisure, as long as you keep moving forward through them.
Candy as Art
The next area was kind of a museum gallery.  Famous images from pop culture had been faithfully recreated in candy.  There was Van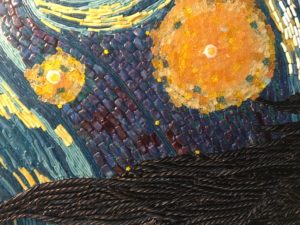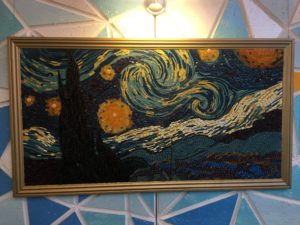 Gogh's "Starry Night," Rodin's "The Thinker," and one of Warhol's Soup Can paintings, all made with jelly beans, gummy bears, licorice, jawbreakers, non-pareils, and much more.  There were portraits of Marilyn Monroe and Willy Wonka (of course), and an Egyptian sphinx. Accompanying each one was an information card that said which types of candy were used, how many pieces, and how many calories it contained. Some of the totals on the bigger or more intricate pieces were mind-boggling. The artistry on display here was impressive, similar to those massive Lego sculptures built by professionals.
Next up was an underwater scene, with some very impressive sculptures.  An old-timey scuba diver had a suit woven from sour belts. A lobster whose claws were made of gummy lobsters was given the amusing name "Lobsterception" on the info card.The experience changed focus after that room though. It shifted away from candy and mostly featured colorful backdrops. There was usually one or two more candy sculptures in the room, but not much more. And the themes of the room didn't even tangentially relate to candy, let alone that enticing map from the beginning.
O Sugar, Where Are Thou?
One room had the walls and floors painted like a psychadelic color swirl on one side, and a cloudy sky on the other. You could pose with props like giant balls or hoops, but none of this had anything to do with candy.  There was a house with a candy tiger in front, but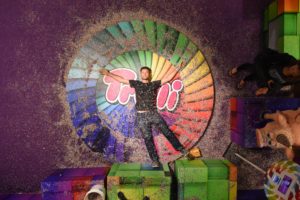 the house wasn't even a gingerbread house, which would have been a natural fit.  It seemed an odd missed opportunity. There was a beach/jungle scene with a hammock, swings, a tiki bar…and nothing related to candy except the sculptures of an alligator and komodo dragon.  Not even the flat graphics on the walls were candy-themed.  If you are going to create a real-life Candyland, why not make the tree trunks out of chocolate, and the palm fronds out of those jellied fruit slices or something?  I suspect the answer is "because original art costs more money" but the resulting loss of theme was disappointing.  Instead of wandering through a realm of candy, I felt like I was in Colortopia instead.
There were still candy samples in each room though, and I indulged every time except one.  I skipped the candy bracelet because I never really liked those.  But I got a Pixie Stick, saltwater taffy, chocolate truffle, Airheads, some weird sour gummy candy, and best of all, a full size Nestle Crunch bar on the way out. Each room also had helpers who graciously assisted with taking photos, whether that meant taking the photo for me, or pouring confetti above me just in time for the best shot.
Sweet Redemption
The candy theme got back on track for the final room, which is what I wish the whole experience could be like.  Essentially a giant ball pit like at Chuck E. Cheese, except filled with marshmallows! Not real marshmallows, of course, but the perfect size to swim and climb through. There were also 3 different interactive areas, and I made it my mission to load up the overhead box full enough to release a cascade of marshmallows onto my head. As you might expect, this area also had the most other people to contend with, and a little girl stole my prime position under the marshmallow drop. Not that I minded much; the whole thing was silly fun. Especially when I submerged beneath the marshmallow waves and plowed forward like a candy kraken, leaving a white wave and startled looks in my wake. This room was truly the epitome of Candytopia.
The gift shop had some very enticing gourmet chocolate bars, along with buckets of the small colorful candies used to make the sculptures. Exiting into the real world again, I felt a sugar overload from all the freebies. It felt good to act like a kid again and basically have candy for dinner. That's what Candytopia is best at–forgetting about being an adult.  I wish it had more actual information though. The first room had promise, with the info cards on the various works of art, but it trailed off. And as I mentioned, the theme got lost too, in favor of Instagram opportunities, which didn't really do anything for me because I don't use social media in that way. Candytopia ended up being silly fun, frivolity incarnate, for both the good and bad aspects of that word.
Candytopia is located at Santa Monica Place Mall.  They are open every day until 8:30 pm, and tickets have to be purchased in advance.  Prices are $30 for adults, $23 for kids 4-12, and children younger than 4 are free. For more information, visit their website here.