uWink Bistro Mixes Food, Games and Community
Warning
: array_key_exists() expects parameter 2 to be array, string given in
/home/content/43/7380043/html/wp-content/plugins/responsive-lightbox/includes/class-frontend.php
on line
1489
Warning
: array_key_exists() expects parameter 2 to be array, string given in
/home/content/43/7380043/html/wp-content/plugins/responsive-lightbox/includes/class-frontend.php
on line
1701
Warning
: array_key_exists() expects parameter 2 to be array, string given in
/home/content/43/7380043/html/wp-content/plugins/responsive-lightbox/includes/class-frontend.php
on line
1889
Noland Bushnell is known amongst geeks, nerds and dweebies alike for dozens of reasons including the Atari home video game system and dozens of binoculars and telescopes over the years. To the unlearned though, Bushnell is considered the Gary Gigex of the themed restaurant world. Indeed, Bushnell is the brain behind Chuck E Cheese's Pizza Parlor.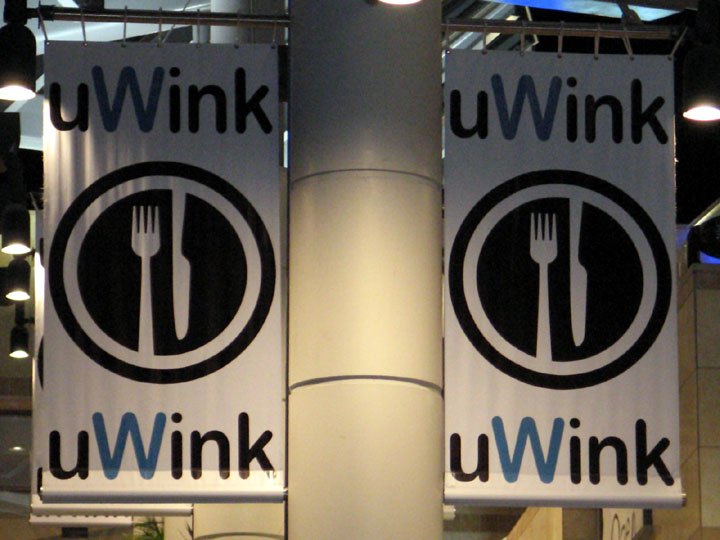 For years though, Ole Noly has had the dream of creating a casual dining and gaming environment for adults, hinging on the latest interactive entertainment tech. It wasn't until recently that the environment for this kind of restaurant would be attractive to the 20 and 30 somethings that grew up with Combat and Circus Atari. Introducing uWink.
uWink redefines the cyber cafe, removing the dark, smoke filled hard core gamer-haven stereotype and creating a zen garden-like bistro that relies on touch screen interfaces instead of order taking waitresses and turns dinner conversation into light hearted competition.
Nestled in the Warner Centric area of Woodland Hills, the flagship restaurant is unique in a dozen or more ways, particularly with dining. As you enter, the host will create a party reservation and assign it to a table(s). Each member of your party is given a passcard of sorts that will be used to store each member's order and keep track of the tab, which will be important as you leave. As you sit down, your table greets you with a welcome message on one of at least 2 screens depending on the size of your party. Start your orders off with drinks by touching the soft drink or alcohol icon button in the navigation. 8 options are displayed in bright photos with more choices on additional pages. Pick a drink to get more details and confirm it to send your order back to the kitchen or bar. Once you've made a choice, wave your passcard in front of the grill on the right side of the screen to store that order to the card and you're done. Then relinquish control to your neighbor who starts the process again.
Food items are much the same. Appetizers, salads, main dishes and even deserts are fully customizable. I chose the traditional burger which gave me bread, meat, cheese, topping and side dish choices, all by touch screen interface. Optionally, you can see a nutritional value run-down by touching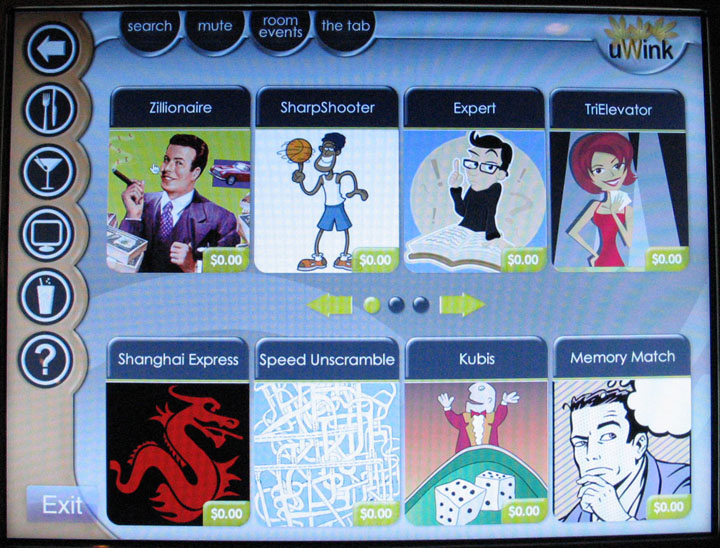 an icon, though at the time of press, this was not functioning. The standard burger and fries ran about $9.25 which is a little high. I've had better burgers at some places like Hamburger Hamlet, but I've had much much worse. Side dish options were abundant and included sweet potato fries, slaw, onion rings and a half dozen others you wouldn't find at an average eatery of this type. Premium toppings like bacon or avocado were just a touch away (and a buck fifty) and I could choose how the beef was cooked. Portions are relatively large (think Hamburger Hamlet, Islands or Red Robin) and left me easily satisfied. Sandwich items, pasta, pizza and even steak entres are available with the same multitude of choices. Pick your food, wave your card and it's brought to you as soon as it's ready. Take as much time as you need since items are brought to your table based on when they're ordered, not dragged down based on whose item takes longer to prepare. Need a drink refill? Hit a single button and wave your card. Your drink choice is read from your card and quickly delivered. This is the future of casual dining. No waitress to forget your order or mistake her own writing. No more cold food or extended heat lamp hiatus's.
Once you're ready to take care of the bill, the screen offers several options. Go ahead and pay the entire bill at once.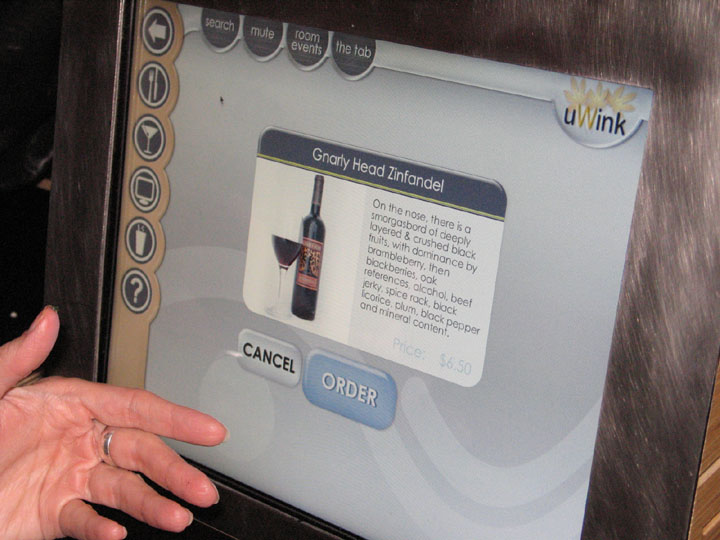 Review your items, choose your tip amount (calculated automatically) and wave your passcard to assign the total before taking it to the hostess and paying. Want to split the bill? No problem. Movie items into groups and wave one card for each group. Individual bills? No more dirty looks from waiters. Since each person's food and drinks are associated with one card, just check out with that one card. Again, tip is calculated and you're responsible for only your purchase. No more paying your your drunk buddy's booze tab.
Then there's the at-the-table entertainment. Unfortunately with the restaurant being so new, there are still a lot of bugs to work out. Games are initially free during your meal, but if after a reasonable amount of time, each game could add a few dollars to your bill. A lighthearted basketball game, Wheel of Fortune Wannabee and Who Wants to be a Zillionaire trivia were among the playable diversions at our table. More games are expected to be added at a rate of about 2 per month. The restaurant promises movie trailers, music videos and cafe-wide gaming events in the future, but none were available during my visit. During the grand opening, everyone was invited to participate in uSketch, wherein patrons were given a phrase or object to draw out (like Pictionary) and projected onto the wall for team members to guess. The game attracts just about everyone in the restaurant and gives you that "I'm on a Game Show" feeling.
You're also able to register with a recurring username, where you'll receive a membership card and updates via snail mail and can log in to track scores held for about a month. That feature, again sadly, was not functioning properly so we missed out on it's promises. Signing up grants other little benefits, for example, favorite meals are tracked and can be brought back up at the touch of a button. If you always want your burger done a certain way, expect uWink to know after logging in and you won't need to customize your order each time.
After dinner or a few drinks at the bar, make sure to grab your party and head to one of the large gaming tables for Octa Pong or ElectraFoosball. 6 trackballs, each with 4 buttons, surround each table while a video is projected from the ceiling onto the surface. Gaming might be casual, but competition can be heated at these tables, so be ready for some yelling and frantic ball-spinning after your meal.
There was a lot to like about the restaurant, but there are a lot of bugs yet to be worked out. Between 80 and 90 individually networked Mac Terminals can be an IT nightmare but done smoothly without a single out-of-place error message during our visit. More content is needed for the touch-screen terminals and the prices need to come down a bit, but it's just a matter of time for the fad to catch on. Advertisers are going to want to put content at every table and this is a perfect outlet: dynamic, relaxing and a nearly captive audience. Particularly the restaurant wants to appeal more to women. Branded partnerships will likely look to fashion companies and woman's magazines for advertisement. uWink may struggle at first, since early adopters may very well be turned off by the lack of games and a higher-class atmosphere. That said though, it's worth trying, giving them a few months to smooth out the kinks and going back for what could be a great night out with friends.