Puzzles within Da Vinci's Secret (A 60 Out Escape Room)
The Premise (from 60 Out):
"After Da Vinci's passing, he left his favorite pupil, Salai, a gift. This gift was greater than anyone could ever suspect, a secret room filled with some of the most challenging riddles and puzzles known to man. It is Da Vinci's last unsolved mystery and now you have a chance to unravel some of his greatest work."
My team of puzzle-masters was led down a hallway and told a brief story about Da Vinci and his relationship with Salai. Our guide showed us the door to Da Vinci's laboratory, filled with gadgets and contraptions to help us escape, and we were on our way. We immediately scattered, trying to figure out the multitude of riddles and puzzles that adorned the walls, tables and sometimes ceiling. All the puzzles were made of wood and metal, with several clues written on "ancient" parchment. Paintings lined the worn walls, as light streamed in from the stained-glass windows. The extremely intricate and well-thought-out production design added authenticity to the room's theme.
Most of the escape rooms I've done have had an actor as part of the room, guiding us and available for hints. This room did not have an in-room guide; it did, however, have a bell we could ring for clues if we got stumped. Da Vinci's Secret incorporated more "active" puzzles than I am used to, which I enjoyed immensely. We had to pay attention not only to the puzzles, but to what we, ourselves, were doing within the room(s).
Keeping Busy
This room was very well utilized, and we were rarely idle. Many of the puzzles incorporated several gadgets at once, and multiple members of our team at once. It felt very inclusive, from the smallest riddle to the larger picture. There were tactile puzzles as well as logic puzzles, some which spanned across two locations. I have to say there was definitely something for everyone, and nothing was too obtuse to figure out.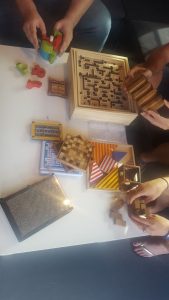 Being a 75-minute room, some of the puzzles were difficult and some were cut-and-dry, but the overall effect of the room was nice and challenging, especially for the escape room enthusiasts I went with. With 15 or so minutes to spare, we turned our attention to the bonus puzzle in the room. It had nothing to do with escaping, but held a prize we could keep if we finished it and escaped the room in our allotted time. After working on the bonus unsuccessfully, and through our own oversight and neglect, we ended up scrambling frantically through the last five minutes, escaping with only SEVEN SECONDS to spare! Talk about an adrenaline rush!
Not only was the room detailed and well-thought-out, incorporating some of Da Vinci's famous works, but there were also several puzzles laid out in the lobby to get our brains working before we went in. Da Vinci's Secret was one of the best escape rooms I've done. I was extremely impressed with the production design and the quality of the puzzles themselves. I can't wait to try out another room by 60 Out.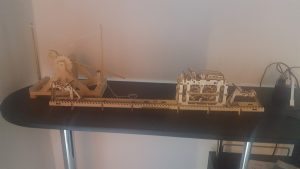 60 Out has 4 different locations around the Los Angeles area, each with multiple themed rooms to choose from.
https://www.60out.com/