E3 2011: South Hall
If you've never attended The Electronic Entertainment Expo it can be instantly overwhelming to the senses and more than a little taxing on the body. I'm lucky my fingers can still type, so before they give out, here's E3 2011: South Hall.
It's been like clockwork every year to see Microsoft dominate the South Hall space and this year isn't any different, though there wasn't much to see. Microsoft certainly had Gears of War 3 out but their presentation was more about a slew of new Kinect games and 'toys' including a full body scanner to make player avatars the most accurate yet. Fortunately, there was no need to fill up floor space with that because it became available to all Kinect owners shortly after Monday's press conference. What they did have was an hour long line to play games like Star Wars, Once Upon a Monster and Rise of Nightmares.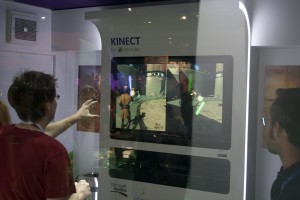 We got a chance to see real players fumble around wildly to try and deflect laser bolts and use the Force to push droids from their path. It was all very disappointing, and this is coming from a solid Star Wars fan. If the press conference's "Lightsaber On" moment wasn't bad enough, the official description on Xbox.com says the following:
Dance, fly, smash and duel your way through the most exciting game in the galaxy.
I'm sorry… DANCE?!?!
Moving on, Disney has an impressive turnout across the platform board. IP based titles like Phineas & Ferb and Cars 2 are coming to the big three platforms, but others like Jelly Car and a fun and timely return of The Incredible Machine for mobile devices like the iPad were playable as well. A new action/puzzler that let's players suit up in over 40 familiar character based costumes and team up with 3 others to explore 6 worlds, defeat enemies and solve puzzles, Disney Universe, demanded a lot of attention. The avatars are beyond cute and the gameplay, though simple, is actually pretty engaging. Also worth mentioning is Disneyland Adventures, a new Kinect game where players can explore a virtual theme park and jump into mini-game rides.
On the opposite side of the hall, WB games claims their stake with larger than life tapestries of Batman and Catwoman to cover a line a mile deep to play Arkham City. Right behind them, 2K games has multiplayer Duke Nukem and free beer behind closed doors. The 4-on-4 team deathmatch is largely uninspired and feels tacked on. For some reason it's become a requirement to give players hats to customize their characters with and far be it to leave Duke out of the picture.
Sega is all about Sonic Generations, Konami is all about their rhythm and motion based games like Glee Karaoke Revolution. EA brought their A game(s) as well. Another showing of Star Wars: Old Republic, some fresh Sims action and Need for Speed: The Run.
All was not same-old same-old though. There were 2 stand-outs here. You may recall last year's launch of OnLive, a cloud based gaming service that required no downloads (other than a simple client) and opened up both Mac and PC owners, as well as regular TV owners with an optional break-out box to play a small but growing library of first run games, regardless of the power of their PCs. In a way, your computer acts as a simple window. Their supercomputers stream the video to your device and you control the action via mouse/keyboard/gamepad. OnLive announced a deluge of new content this year, but the promise of mobile device gaming is the draw. Imagine using your iPad to play Unreal Tournament, Batman: Arkham City or Red Faction: Armageddon. Using a universal gamepad, that will soon be possible, with a fast enough connection. Add internet browsing capabilities to the package means that pesky Flash issue on the iPad becomes null and void.
Lastly, back briefly to WB games, we get a chance to play Lord of the Rings: War in the North. This hack and slasher with RPG elements is THE game LotR fans have been waiting for. It's a 3-player co-op that pits brand new characters in the LotR world amongst familiar faces, not to mention foes. I played the ranger character who could use swords close up but excelled in archery. My job was to attack from a distance and protect my teammates from enemy archers or magic users on high. When needed, I could call in a giant bird to take out heavier orcs and trolls.
To top off the night, we were invited to a Warner Bros. cocktail party. Wine, cheese and even mead were served as War in the North video streamed on a 200 inch screen while a live orchestra supplied the soundtrack. A fitting end to a long day on the show floor.