Angry Birds Heads for Hoth
George Lucas' smartest move back in 1977 was to secure a vice-like grip on merchandising in favor of a director's paycheck. It made him a millionaire and a paraiah in a lot of ways too. If there's one property accused of over-licensing, it's Star Wars. Really though, does it matter? Frankly, I'm looking forward to Angry Birds Star Wars.
Here's what we know so far. Rovio, maker of all things Angry Birds, has coupled with Lucasarts to bring the classic trilogy Star Wars characters into piggy hating universe. The birds themselves will resemble iconic heroes and the pigs will take the guise of Darth Vader and his monocromatic minions. The stages will resemble locales from the galaxy far, far away like the Death Star and Tatooine.
Not only will the app become available for iPhone, Android, Windows 8, Kindle Fire and PC/Mac download, but physical manifestations like toys, games and even Halloween Costumes are expected to start hitting shelves shortly. According to the release, those costumes won't be available until 3 days before Halloween, which seems a bit counter-intuitive, but there's plenty of last minute cos-players out there.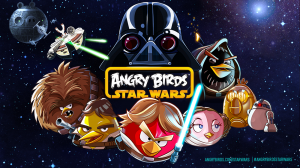 We can assume a few things based on the promo image:
Luke Skywalker – Red Bird: just your average, no frills projectile.
Han Solo – Yellow Bird: He'll do point five past light speed, kid.
Princess Leia – Pink Bird: the recent addition to the feathered weaponry, the pink burd blows bubbles, but being it's the only girl, the princess fits.
Chewbacca – Green Bird: big walking carpet uses his brute force to topple the swinetroopers.
R2-D2 and C3-PO – Blue Bird: Your swarming type, though, they're one shy of the standard 3. Maybe throw in R5-D4, if you can get him motivated.
Obi-Wan Kenobi – Black Bird: he's da bomb!
Darth Vader – Boss Piggy: his asthma doesn't seem to make him easier to take down.
Stormtrooper – Regular Piggy: I'm calling dibs on swinetrooper right now.
Personally, I'd like to see some fresh takes on the birds' abilities specific to their character, but I'd still pay a buck (or two) to use the Millennium Falcon to slingshot Han Solo at a group of stormtroopers. The toys on the other hand . . . not so much.