Marvel Avengers S.T.A.T.I.O.N.
Las Vegas has taken a hard shift away from the family-friendly reputation it cultivated in the 90's. I always thought this was unfortunate, losing a lot of the individual flavor of the attractions in an effort to be cool and modern.  Luckily, attractions for the young and young at heart can still be found on the Strip! You just have to know where to look. Treasure Island is currently home to an interactive attraction for Marvel's Avengers that provides a wonderful change of pace from the gaming and drinking found elsewhere.
With the Avengers characters having incredible success at the box office over the last nine years, it's no wonder that they would make their way to other avenues of entertainment.  Here is the official description from the website of what you can expect when you step into the world of the Avengers.  "The Avengers S.T.A.T.I.O.N. (Scientific Training and Tactical Intelligence Operative Network) is a completely immersive and educational experience that brings visitors into the world of The Avengers.  All ages are welcome to access the official S.T.A.T.I.O.N. headquarters and dive deep into the Marvel Cinematic Universe with access to exclusive intelligence files, classified studies and experiments that explore the history and scientific origins of The Avengers while training to become an official agent of the S.T.A.T.I.O.N."
In case it wasn't clear, the exhibit is focused on the cinematic Avengers.  Everything within relates to their onscreen depiction, and not their origins on the printed page. Still, with a growing roster of characters, there is no shortage of material.  Everyone gets an origin story and explanation of their special skills and equipment, with the more famous/popular members getting more space. I was very pleased to see all members get some real estate though, including those who have only been seen on screen twice, like Scarlet Witch and Ant-Man. Vision, despite having a similarly small resume so far, is important and unique enough to get his own room. Even that can't compare to the real estate allotted to Captain America, Hulk, Thor, and especially Iron Man.
The premise of the experience is that we are new recruits, hoping to become agents. After a quick scan for HYDRA spies, we are allowed to peruse the information and interactions within. There is a companion app you can download onto your mobile phone, or you can rent a device with the app pre-installed.  This app works really well–it provides audio clips and images for the characters that are triggered when you're in the correct room.  It also gives photo opportunities with optional graphics, and quizzes at the end of each section.  Answering the questions promotes you through the training ranks, and builds a dossier for your own personal ID file. I did find a couple of minor typos in the app that I forgot to tell them about, but I had no problems with the functionality.  My device did die towards the end of the experience, but they were able to charge it for me with no loss of my data.
The experience bills itself as educational.  My friend was impressed with the science sprinkled throughout, and it's true that there was some real science on display. It's hard to really get too scientific with comic book heroes, though. The Hulk had a couple of good lessons on different kinds of light waves, and brain chemistry.  Thor had some interesting stuff on wormholes.  Overall, I wasn't here for the educational aspect, and I doubt most others will be either.  So I count it as nice to have, but not necessary.
The interactive portions were more fun. They ranged from simple photo stations with props to a full-fledged fight against Ultron. The variety on display was nice, with a particularly fun surprise that I don't want to spoil in Ant-Man's section. Hulk may have had the most, with 3, although one (a strength test) seemed to be broken, unfortunately.  The finale, where up to 6 participants can team up as different characters, was ambitious and unexpected.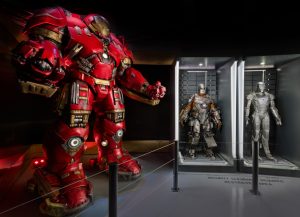 For me, the highlight was the visual displays. If those weren't actual costumes from the movies, they were the best replicas I've ever seen. There was also a lineup of several suits of Iron Man armor, Thor's hammer, Captain America's shield and motorcycle, Hawkeye's bow and arrows, etc. In addition to physical props, there were fun digital enhancements for Falcon and a wormhole to Asgard. My favorite prop was a giant Hulkbuster suit that was clearly not an actual costume but still impressive because of its sheer size. I loved checking out all the detail on these artifacts, and I give kudos to the staff for not rushing anybody.  You can take as long as you like, and it took me over 2 hours to make it through. You could rush through in an hour, but what would be the fun in that?
The last minor note that I appreciated–S.T.A.T.I.O.N. fully acknowledges 2008's The Incredible Hulk movie as part of the Avengers continuity. Easily the most forgotten movie in the Marvel Cinematic Universe, it's finally given the respect it deserves.  It has a couple of displays in the Hulk room, including one focusing on the villain from that movie, The Abomination.
The whole experience starts and ends in a huge retail store, which is more than a simple gift shop.  It's got all kinds of Avengers merchandise, not just souvenirs from your time at S.T.A.T.I.O.N. Here that you can purchase your personnel file/dossier that you created throughout your "training," which includes the pictures you took inside, plus your badges earned for answering questions and your final professional picture superimposed against a green screen of all the heroes. It's a neat package, much better than typical theme park-style pictures, since you created most of it yourself.
Avengers S.T.A.T.I.O.N. is open from 10 am to 10 pm, with the last entry at 9 pm. Admission is $34 for adults and $24 for children.  Right now, there is a special for guests of the Treasure Island hotel–2 admissions for the price of one.  Pretty sweet! More information, and online ticketing, can be found here.