Top 5 Escape Rooms – Lacey's Picks!
It's the time of year for all the Best/Worst of lists, and I thought I'd make a list as well, so I'll be counting down my top five escape rooms! I've specifically chosen rooms different than writer Ryan Davis, despite having some of our favorites overlap (Lab Rat, Jumanji). As you'll read, the majority of my favorites are horror-based. But, scary or not, the best rooms I've done are highly immersive and include more than an endless parade of hidden combinations.
5. Grandma's Master Plan at 60out (Los Angeles, CA)
The tamest narrative on my list (I clearly love horror), 60out's Grandma's Master Plan brings players in to find their missing grandmother. Solving puzzles in what seems like a tidy, elderly woman's apartment uncovers a more elaborate and mysterious grand scheme involving a series of bank robberies. Grandma's Master Plan engages all the senses with its varied puzzle logic, explores several very different locales, and is simply delightful! The longer allotted time (75 minutes) allows for some truly intricate and hands-on puzzles. Although it is rated as a difficult room for 60out, it is a good room for all family members (no scares here!) and has an incredible payoff at the climactic finale.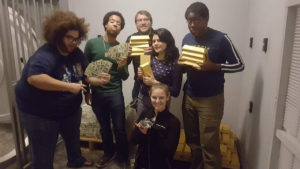 4. Black Market's MurderCo (Upland, CA)
Players are brought in as elite members of MurderCo, a company that lets its guests watch one of their hand-selected "artists" murder someone. But the tables are turned and the unsuspecting elite are turned into the prey, as the sadistic artists of MurderCo are unleashed. MURDERCO lives up to its "R" rating and is for guests 18 and up. I wouldn't recommend this room for those with weak stomachs or who scare to the point of hindrance. There are also several small spaces to maneuver through, so full mobility is required. As a former Knott's Scary Farm maze designer, Jon Cooke and his team have created a fantastic world of grotesque nightmares for guests to interact with. From truly invested actors to the gory production design, MURDERCO was like being in a horror film and is great for those looking for an experience with a more lethal bite.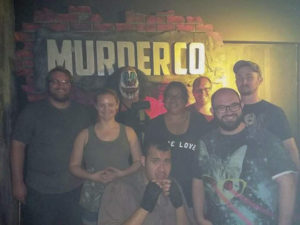 The Basement was my first horror-themed escape room, and my second overall. There's something about serial killer Edward Tandy's gruesomely twisted game that sticks with me, even after all my other escape room experiences. The Basement absolutely excels in story and set design; they even incorporate actors and some very personal puzzles. The gore in The Basement isn't extreme and the puzzles are engaging and encompass a large area of game play. The four different rooms at The Basement (Elevator Shaft, The Study, The Courtyard) are all one continuous narrative (but can be played out of order), and all live up to the high standards one has come to expect from the company. The Basement is created for a large group of players (up to 10) and can get quite chaotic if they don't communicate well. Even though I did not survive Tandy's torture, I had such a blast getting offed and want to go try again – there are two versions of this room offered!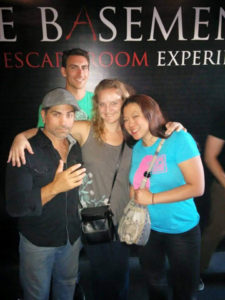 The 90-minute Stash House is a sprawling, epic escape "mansion," for lack of a better word. Players are invited to notorious crime boss Ray Jones' expansive apartment for a business deal. But he's set a trap; his guests are tasked with finding all the drugs hidden within the place and flushing them before the cops arrive. Stash House includes so many puzzles that a large group (up to 11) can definitely split up to tackle different puzzles concurrently. I feel confident I can replay Stash House and take a completely alternate "track" of puzzles without seeing anything I saw the first time. Stash House incorporates multiple senses, has a uniquely immersive hint system, and gives players the satisfaction of actually flushing the "drugs" down the toilet. A dead body, a suggestive stripper pole, secret rooms, hidden drugs…Stash House expertly plunges players into the Los Angeles crime scene, providing an exciting adrenaline rush.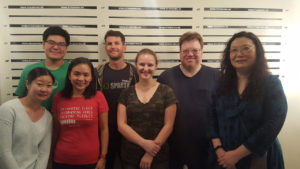 1. ZOE at Escapade Games (Fullerton, CA)
Escapade Games has created a haunted house full of horrors, and ZOE absolutely excels at immersion, truly embodying the "escape" room concept. Running for our lives from terrifying ghosts, my team and I weren't concerned with checking our time on the clock. We were absorbed in the world we found ourselves in, fully engaged in the haunting story. The time flew by as all of our senses were utilized in the rooms – blindly feeling around in the dark, the smell of copper (blood?), and crawling through tight spaces… The puzzles themselves weren't particularly difficult, but the challenge was working through the fear. The tension was palpable, our reactions visceral, and I couldn't have had a better time. I don't recommend this room if you get debilitated when scared. But if you can work through the fear and have a good time, I can't recommend ZOE enough! From the actors to the production design, this room is top-notch and well worth the drive!