Zombie Joe's "Brave the Dark"
Like previous Zombie Joe performances before it, Brave the Dark is anything but straightforward. Advertised as a "fun n' freaky immersive production," Brave the Dark is all about taking the audience/participants out of their element, making them uncomfortable, and making them feel something.
Before the show, while talking to Zombie Joe himself, we asked why the run was so short. It was mainly due to the toll it takes on the actors, who give it their all, running around in the dark and getting in touch with an almost feral part of themselves through physicality and vocals, four times a night. However brief the event may feel to the audience, to the actors, it must feel twice as long each time.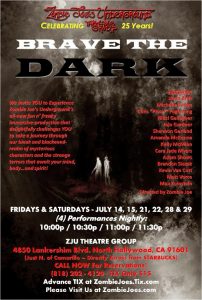 As our performance time crept up, Zombie Joe gave us the usual immersion event rundown: Don't touch the actors, stay with the group, the actors won't harm you, follow the lights. Our group of around twelve people was made to line up single-file and put our hand on the shoulder of the person in front of us. We were led as such with our eyes closed into the theater. Once the whole group was inside, we counted backward from ten and were able to open our eyes at zero. We opened our eyes to complete darkness.
At first unsure how everything was going to work, we waited in darkness until a "gollum"-type person lit the way with a small LED light. I actually missed this part, as I was in the rear of the line, which was a little bummer. But then other actors crept out of the darkness and showed us the way with lights and gentle touch-guidance. It was hard to tell, but maybe there were around 10-15 different vignettes, or small scenes. The use of herding us all into the bathroom in order to reset the scenes was a very clever use of the space, especially considering the time constraints. As we moved from space to space, being led by small, sometimes-flashing LEDs, the sights and sounds of the actors were eerie, sometimes uncomfortable, sometimes erotic. There was at least one jump-scare, which I will not spoil here, but it offered a slight outlet for the building tension in the darkness.
The make-up, masks and costumes were really quite good, although there were some I wish I was able to see better in the dark. The use of live music at one point evoked a hellish orgy of heathens, dancing around in torment. There was only one vignette that had intelligible dialogue to tell a story, the others were left to the viewers to interpret, some more straightforward than others.
At the end, we were led out into the alley behind the theater. Zombie Joe said before we went in that while it may only be a 20-minute experience, it can sometimes feel like 2 hours. Time is a funny thing in the dark. Sometimes, to me, it felt like I was in there forever, other times it felt all too brief, as I wanted to see and explore more of what the actors were offering. While walking back to our cars, my friends and I were quiet for a while, before being able to talk about what we had just seen. We needed time to digest our feelings. Once we got to talking, there were things that I missed that my friends saw, and vice versa. We were almost tempted to go in again to see if what we think we saw was really there, or if our imaginations were just playing tricks on us, being guided by the sights and sounds of the dark closing in on us.
This event is definitely not for children. It includes nudity, dark images, and strobe lights. Tickets, location and other event information can be found on their website at http://zombiejoes.com/