Transformers: The Ride 3D
Returning to our reviews of Thrill Attractions just in time for summer, Media Geeks was given the chance to ride Transformers: The Ride 3D at Universal Studios Hollywood.  This new dark ride came with a lot of buzz in the theme park industry.  It's just as much a blockbuster event for thrill rides as a new Transformers movie would be for Hollywood.  No matter what your opinion of the movies, or even the ride itself, there's no denying that it is impressive.
Taking over the space previously occupied by Backdraft (and then some), Transformers is easy to spot by its massive sign and mural at the end of the lane between the Jurassic Park and Mummy rides.  The queue's them is that of a N.E.S.T.(Non-biological Extraterrestrial Species Treaty) base, and the riders are new recruits.  We're awaiting "training" in the base when Decepticons attack to steal the All-Spark shard, which would give them a means to turn all Earth machines into more minions.  So we hop on board a new Transformer named Evac to act as navigators and get the All-Spark out of the city before the Decepticons get to it.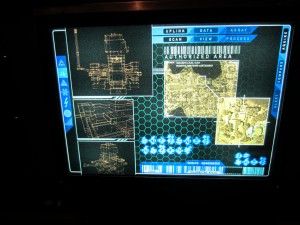 In any big-budget ride, the queue is worth discussing.  Outside, it's standard switchbacks, with military crates and canisters along the path.  A nice touch was a cleared section for park entertainers to help guests pass the time enjoyably.  Once inside the building, you really start to see how much time and money was put into this.  The walls are full of control panels with buttons and switches to play with.  More importantly, there are HD video screens liberally placed throughout that give you the plot and background.  Using extensive clips from the 3 movies, along with brand new footage shot exclusively for the ride, there was a lot of information to take in.  There were bios of the Autobots and Decepticons, plus  ongoing status updates of the enemy attack.  This section accomplished the unheard-of.  TWICE.  First, it made me want to see the movies again.  Sure, they cherry picked the best scenes, but they looked much cooler than I remember them and much easier to follow than on the big screen.  I found myself wondering if anyone had Transformers 3 on Blu-Ray I could borrow.  Second, there was so much new footage of the plot, along with diagnostics, blueprints, etc.,  that I wanted the line to move slower.  It's true.  The line zips right along, which is a huge plus for any theme park ride.  And yet, I found myself wishing it would drag a bit more because I kept missing scenes as I had to move to the next room.  Make no mistake, the plot isn't complex, I caught most of the scenes, and a fast line is an unquestionably positive feature.  I just found it amusing that I wished the line would slow down.  Side note–there are 2 Easter Eggs in the new footage.  Comment on this article to find out what!
Once through the labyrinthine bunker, and after picking up 3D "Battle Glasses,"riders are ushered into Evac vehicles by employees dressed as camouflaged soldiers.  It's a loading station much like any dark ride, even the old Disneyland ones like Peter Pan–with more robots.  After the first corner, the ride kicks into full gear almost right away.  Transformers is a state-of-the-art motion simulator, with the added bonus of a vehicle that actually moves along a track.  Unlike Star Tours, for example, you really are moving.  The closest relatives to this ride are both in Florida–the Spider-Man and Harry Potter rides at Universal's Islands of Adventure park–so it's nice to get one on the West Coast.   This particular track covers about 2,000 feet over two levels of a 60-foot high stage.  The ride takes you from one massive screen to another, giving you a first-person perspective of your escape from the city.  Decepticons attack you and Autobots save you, all while you speed away, fly through the air, crash into walls, and evade constant danger.  Not only do the vehicles shake and tilt based on what's happening on screen, but there are interactive effects including water spray, heat, and smoke, plus physical sets that make the transition from screen to screen more realistic.
My first impression was actually a bit let down.  Perhaps it was the level of advance hype, or perhaps the tall person sitting in front of me that interfered with the 3D screens.  It was certainly not bad, just not as good as I was hoping.  My photographer, on the other hand, was much more enthused.  She was impressed by the variety of effects they used to immerse the riders and thought the illusion of motion was very convincing.  Feeling like I missed something, we went again, and I waited for the front seat and an unobstructed view of the screens.  The second time with the improved view was indeed better, although I still felt there was a bit too much emphasis on watching the action on screens instead of being part of it.  The footage of the Transformers fighting in front of you is top-notch, bringing in a lot of different characters in action scenes as well choreographed as any real movie.  The transitions are very good though, and maybe that's what makes it seem frustrating when you fall/fly/race to the next scene, only to stop and be shaken around a while.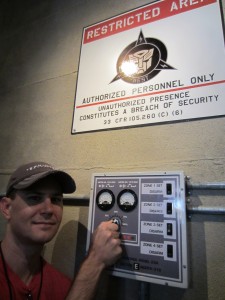 I think what it comes down to is that I'm just more of a fan of real roller coasters.  I love actual height and speed instead of simulated, no matter how well-executed.  With a ride like Transformers you can add story, characters, and visual effects that are impossible on a roller coaster…but they just can't quite replicate that feeling of careening down a hill in a little cart on wheels.  So Transformers is great for people who can't do roller coasters (or don't want to), and it's also great for people who really enjoy theme and atmosphere in their rides.  This emphasis on thrills AND theme combines two aspects of rides that often remain separate–like Six Flags (mostly thrill) vs. Disneyland (mostly theme).  Transformers is that combination of the two that is good at both, which can appeal to pretty much everyone.  For proof, look no further than my photographer, who told me she would score the ride an 8/10, and she doesn't even like Transformers as a theme to begin with!  I'm giving it a 7, with the caveat that I think the front seat is best because if the screen is blocked by a tall person, you lose a good chunk of the ride's impact.  It's one of the drawbacks of relying on 3D technology, although the screens are so big that it's not often an issue.  No matter what problems it might have, it's certainly the best ride at Universal Studios and likely at the forefront of the next big wave of theme park attractions.
Universal Studios Hollywood is open every day with extended hours.  Directions, pricing, and more information can be found here.