Escape Room LA: The Theatre and the Alchemist
I've been doing Escape Rooms for about two years now.  I haven't kept official count, but I'm probably close to 20 and wouldn't be surprised if I was over that.  As time goes on, I keep thinking they have peaked, but something new comes along to surprise me.  There are so many Escape Rooms now that they've started to permeate the mainstream, and I hope more casual members of the public are doing them.  The problem with the proliferation of these rooms is that it can be hard to know which are the good ones, and at about $25 each, you don't want to gamble and pick a bad one.  So I'm here to help!  (If you're still not familiar with the concept of Escape Rooms, check out my previous reviews here and here and here).
My latest Rooms were both courtesy of Escape Room LA.  They are not one of the more prolific companies, having just opened their third and fourth rooms last fall.  Luckily, what they lack in quantity, they make up in quality.  They were one of my very first rooms (see that review here) and their second room, the Cavern, has remained one of my top 5 rooms that I have done.  Until now!  I believe it has been bumped out by the same company's newest offerings, the Alchemist and the Theatre.  I will review them separately below, but suffice to say, Escape Room LA has outdone themselves yet again.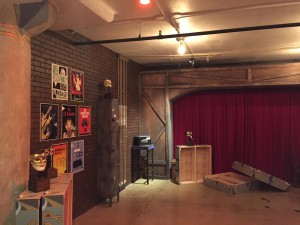 The Theatre takes place in a haunted theatre (of course), and your group's goal is to free the ghost from the shackles of the earthly world.  There are snippets of backstory lying around, but the story is almost always pushed aside in favor of the puzzles.  And there is SO MUCH to do in this room!  It's one of the bigger rooms, able to hold 12 people, although I almost never recommend filling a room completely.  I believe we had 11 and it was maybe a little too full.  As always, Escape Room LA really has great atmosphere, with lots of theatrical props and an employee acting as a stage manager to help if needed.  This room integrates teamwork very well, with some challenges physically requiring cooperation.  There was a moment where the whole room was stumped and the stage manager nudged us in the right direction until I finally figured it out.  That was a great moment.  And the last piece of the story is a nice twist on the typical Escape Room finish.  Overall, this room is very good, although it has so much going on that you simply will not be able to see it all and will have to rely on others.  If that doesn't bother you, go for it!
The newest room is also the best one, not only at this business, but one of the best I've ever played.  The production value is top-notch.  This place is so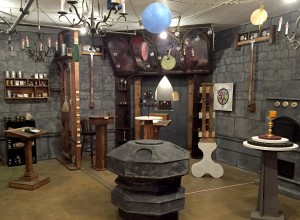 impressive it's almost like walking onto a movie set.  High-quality props and set pieces are everywhere.  Nothing is left empty or blank.  There is a wide range of puzzles, including a couple types that I have not seen before in ANY escape room.  They are all challenging but none of them seem too hard or unfair.  Perhaps the best part is how the reward for solving a puzzle is often a surprise.  Many (most?) escape rooms have locks and the reward for finding the key or code is what you expect–you can open the door or cabinet or something.  In the Alchemist, each solution brings a new delight.  This stream of constant surprises and rewards keeps the Alchemist running at a near-constant adrenaline high, instead of the mid-game lull that many other rooms have.  There are only two minor nitpicks I have about this room, and one of them can't be avoided, since it's more of a disagreement with company policy than the room itself.  At the end of your session, one of the employees will run through the room with you, showing you the solutions and answering questions.  However, the room is structured so each person will likely only see half the puzzles.  Meaning you could do this room twice and get a nearly brand new experience!  The post-room explanation takes that away, although I do know that for many people, this explanation process is a good thing.  The one true nitpick with the room is the very last puzzle, the finale, so to speak.  It doesn't live up to the high standards of the rest of the room.  While we were solving it, I thought of something that would have been extremely cool and was sure I was right…but alas, the real solution was much simpler and not up to par.  This did not put a damper on the overall experience at all, however.  This remains one of my top 3 rooms ever and is unlikely to be replaced anytime soon.
Escape Room LA is one of the highest-quality providers of Escape Rooms around, and they seem to get better with every room they introduce.  They have something for everyone here.  Big groups, beginners, experts…I would recommend them to literally anybody who is interested in doing an escape room.  All four of their rooms are worthwhile.  Location, tickets, and hours can all be found at their website.  I eagerly away what they've got in store next!